2015/16 is turning out to be another extraordinary year.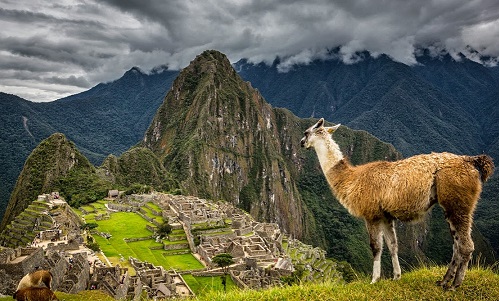 Andrea has continued running. And what a runner she has turned out to be! In 2014, she ran the Inca Trail at altitudes hovering around 14,000' for many days. She made friends with a fabulous group of people who, like her, are certifiably crazy. Late this summer, she rejoined the group in Calgary, Canada, for a 50-mile run in the Canadian Rockies. This is no mean feat.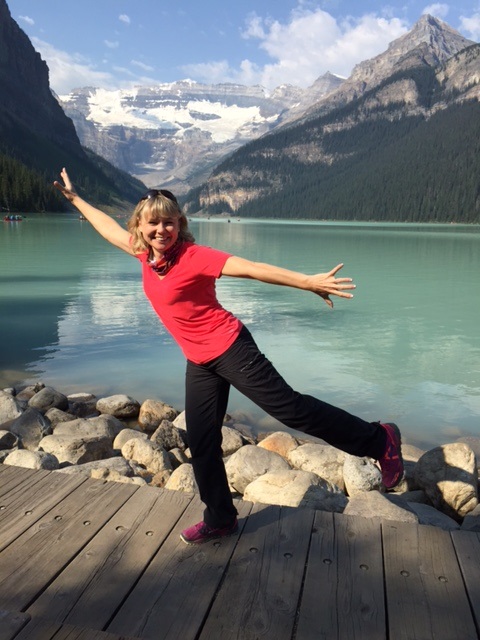 In our last update, I wrote, "I myself look forward to joining her from time to time on these interesting, educational journeys." But this was not to be. For those who know us, the reason is clear. I smoked for many years, and the result was Chronic Obstructive Pulmonary Disease (COPD). Had I attempted to join Andrea in Peru, I would've fallen over stone-cold dead. My lung capacity now stands at 8% of what it should be. COPD never improves; it is a long, painful downhill ride. Oh, I did my best, working out three or four times a week, and walking for two or three miles a day. I didn't set any land speed records, but I kept my cardio-vascular health in the best shape I could. But if I ever again wanted to join my bride on trips to the mountains for skiing, hiking, or just plain sightseeing, I had to do something proactive about it.
On Mother's Day, we joined our old friends John and Rainey Cheek for a big brunch buffet at Lake Lure. They also invited another couple, who were looking to relocate in Hendersonville. Turns out that the guy, Steve Garrett, told us he was on a waiting list for a lung transplant, and he was much younger and had much highter lung capacity than me. "Maybe I should look into this," I thought. And so I met with my doctor to discuss it. Like all things, there are at least two sides to the transplant coin. Was I willing to gamble my remaining, relatively comfortable life on an extremely risky surgery with no guarantee of long-term success? Was I even a candidate? Fortunately, we live within a few hours of the finest transplant center in the known universe, Duke Medical Center. I got on the list for an evaluation.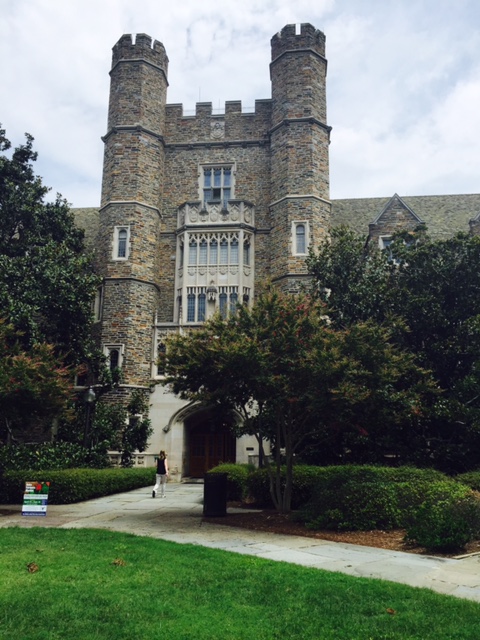 And what an evaluation it was! One week of testing, poking, prodding, interviewing, and more. Last time you gave a little blood for your lab work, you probably gave two or three little vials. Day two at Duke, they took 22 vials! I didn't know there were that many tests. CT scans, XRays, Manography (where they stick garden hoses down your nose into your tummy to evaluate GERD and more, leaving one tube for 24 uncomfortable hours), physical evaluations, meetings with psychiatrists, social workers, financial advisors, pulmonologists, cardiologists, cardiothoracic surgeons, pulmonary transplant surgeons, and Little Vinny, who just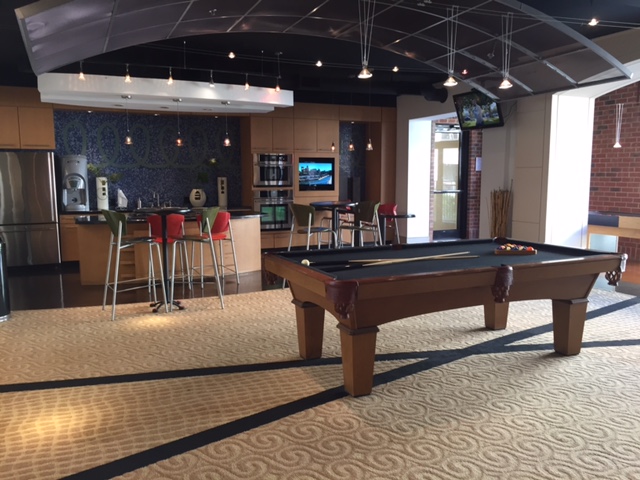 likes to take you out back to slap you around for awhile. I took pulmonary efficiency tests, filled out forms, walked around tracks, subjected myself to invasive heart cath labs and more. You get the idea. All the while, you question your motivation: Do I really want to do this? Is it worth it? How did we even get here. I finally came to the conclusion that I could either let fear guide my life, or I could be guided by hope. Finally, after evaluating my swallow with another down-the-nose study, we got the call: Relocate to Durham . . . now!

So, after much discussion between us (this was Andrea's decision as much as it was mine), we filled one car and drove both to Durham, where we had selected a very snazzy pad to live in. Spacious, modern quarters very conveniently located within shouting distance of Duke. Lots of amenities, like theatre rooms, workout and cardio rooms, community rooms with pool tables, swimming pools, BBQs, undercover parking. All nifty stuff. We rented furniture from Cort, and brought just enough stuff to make the place feel like home: rugs, paintings, sculptures, kitchen utensils and so forth.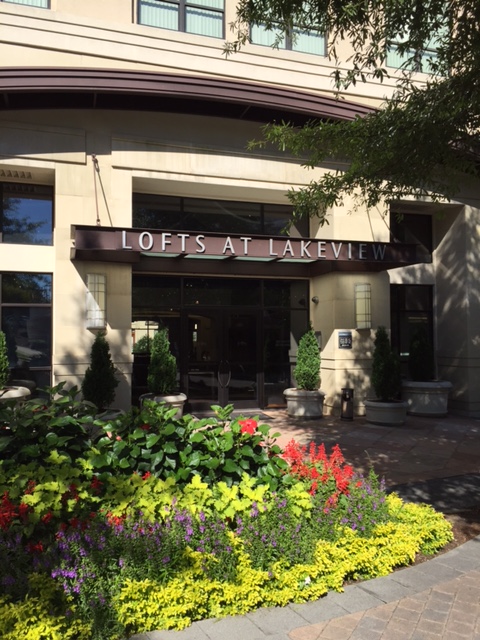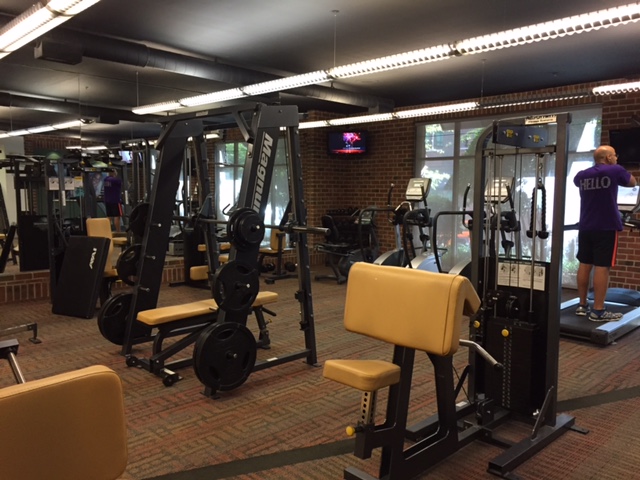 I am a very lucky guy to be married to Andrea. She is my Primary Caregiver, and is very highly qualified as an Intensive Care Nurse of long standing. I was also deeply touched by the willingness of friends to jump in as Secondary Caregivers (in case Andrea gets sick or even just needs a break). Becky Elkin stopped by our Asheville house on a Saturday to drop off some garden vegetables, and when she found out what was going on, she instantly volunteered. This brought a tear to my eye, believe me. Same with my wonderful daughters, Melissa and Tracy. "We're there for you, Dad!" Andrea's sister, Brigitte, even volunteered to travel from Austria to help out. Other friends jumped in as well, like Dawn Grohs and Debbie Bryenton. This is no small thing. The Secondary is "on call" for up to six months, and has huge responsibilities. Judy Wells not only volunteered, but she is looking after our house while we are away. And how could I ever forget the kindness and generosity of our great friends, Walt and Kathy Loy? They put us up (and put up with us) while we shuttled back and forth looking for a place to live while enduring endless tests. Other friends, too many to mention, have offered help and assistance in every way imaginable.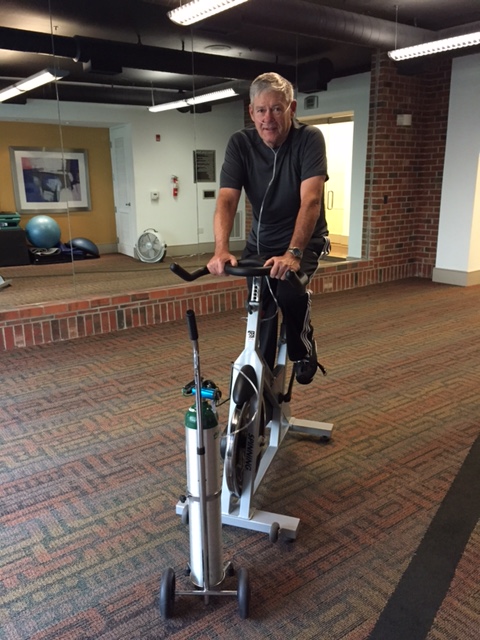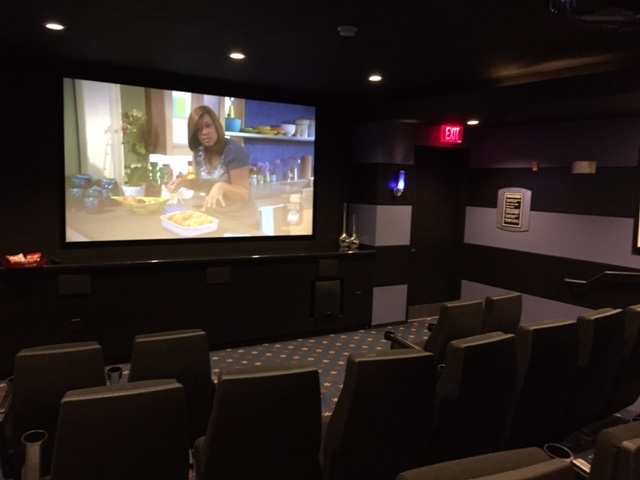 Many friends and family members have asked me about the scheduling. Basically, I have to complete 23 pulmonary rehabilitation sessions, which take place five days a week, four hours a day. Lots of carefully supervised weight lifting, walking, stationary biking, and floor exercises. I put everything I've got into these sessions, and come home completely exhausted. My progress, though, has been extremely good. (I do cheat a little; I work out independently on the weekends, making it seven days a week.) Duke wants their patients to be in the best possible shape for their upcoming 12 hour surgery. Additionally, there are daily lectures and training sessions on good swallowing (a problem after this particular surgery), coping, risks . . . you name it. The Primary Caregiver has to attend these sessions.
Once completed satisfactorily, I will be formally listed, which means that I could expect to get my transplant anytime within the next three or four weeks, probably sometime in November. Two weeks in the hospital, then back to pulmonary rehab for another 3 to 6 months. No drinking again. Ever. Exercise for the rest of your life (a good thing!). Expensive drugs forever (up to $3,300/month for one drug alone!). No more sushi or medium rare burgers. A world of sunscreen and hats.
But next year, I fully intend to join Andrea back in Bregenz for weeks of skiing, festivities and family fun.
There you have it. Doesn't exactly "fit" on facebook, does it? "Today I had eggs for breakfast," or "look at my cute puppies" just doesn't seem to align with "Tomorrow, they're going to rip my lungs out!" But on a more pedantic note, we just got back from a wonderful brunch at the Guglhupf and we're on our way to a piano concert at Duke. Great way to spend a rainy day.
When this is over, we'll head back to the Keys, where we will see our brand-new kitchen for the first time. We are really excited about this, and will post photos as they become available. We really love the Keys house, where we always look forward to our grateful refugees from the cold frozen North.
--Updated 9/26/2015
What's going on? The last week of September Back to top
It's amazing how focused this experience is. The most intense activities, at least during this pre-surgery timeframe, center around the rehab center. The days are similar, consisting of weight training, walking, biking, floor exercises and almost always a lecture of some sort. Sometimes the lectures are about swallowing exercises (a function that is often impaired during the surgery), or anatomy and physiology, or coping, but they are always either about preparing yourself for the surgery or coping with its aftermath.

The surgery itself is no snap; it can last anywhere from 6 to 16 hours. So something is likely to take a hit: brain, kidneys, heart, gut, liver or even the loss of fingers and toes due to poor perfusion during the procedure. And there is always the chance that your feet will never touch the ground again. It's a surgery that is, we are told, 10 times riskier than a heart transplant.

No matter. Those risks are nothing compared to the certainty of the decline in quality of life if this opportunity is not taken. I'm all in.

So I focus on pushing myself a little harder each and every day. I never settle for "good enough." Thursday I walked 1 1/2 miles in 30 minutes, 3X faster than Duke requires. I have gone faster and further on my nemesis, the stationery bike. I lift heavier and with more reps every day.

Today, Friday the first, it all caught up with me a little. I went into AFIBS (Atrial Fibrilations) which led to a long string of Premature Ventricular Contractions, which the EKG characterizes as Ventricular Tachycardia, or VTachs. This does result in a certain number of folks scurrying around with worried looks on their faces, but I got over it within 10 minutes or so and they let me continue my exercise program. I did surprisingly well, even after all that. It did take a lot out of me, though.

What caused it? Who knows. Yesterday, they slapped a testosterone patch on my arm (one possible side effect: elevated heart rate) right after giving me a super slug (two shots) of Hep B Vaccine (possible side effect: elevated heart rate). I also skipped breakfast and gulped down a couple of Fig Newtons for energy right before my workout. On me, the effect of a slug of sugar is often to trigger AFIBS or Atrial Flutter. I guess all these factors ganged up on me at the same time today, and the result was a bit of a mental letdown. Specifically, I can't help but wonder how this may affect my status as a transplant candidate. This thought is a tiny bit stressful.
But, it is the end of another week, and I'll be listed for transplant in a week or two, which means I may get my new lungs in a couple of weeks, or more likely, within a month. We'll see; it all depends on factors such as my "score", the doners available and their physical characteristics (chest size, blood type, serum analysis, etc.), and other technical factors which are beyond my control. The only factors within my control are to stick to the physical improvement plan, eat well, drink not at all, and to keep myself healthy and prepared.
--Updated 10/02/2015
What's going on? The first week of October Back to top